Home » Administration » Vice-Chancellor
Vice-Chancellor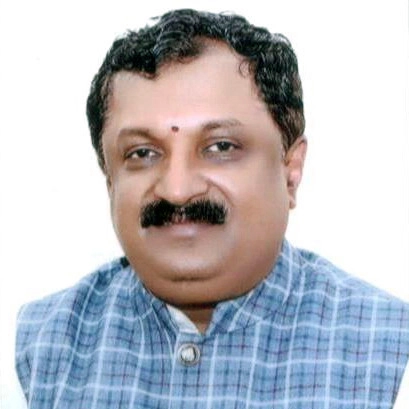 Prof. Shrinivasa Varakhedi
Hon'ble Vice-Chancellor
Central Sanskrit University
Prof. Shrinivasa Varakhedi is currently Vice-chancellor of Central University New Delhi, a premier and largest institution of Higher Education in Sanskrit. He served as Vicechancellor in Kavikulaguru Kalidas Sanskrit University and Gondwana University Gadchiruli from 2017 to 2022. During this period KKSU got accredited at A plus grade by NAAC. He was also acting VC of Karnataka Sanskrit University and served there as a Professor and Dean of Shastra Faculty in Karnataka Samskrita University, Bangalore, Karnataka. He also held the additional charge of the Director of Melkote Sanskrit Academy. Formerly he was the Director of Sanskrit Academy a Research Institute funded by Rashtriya Sanskrit Sansthan, Osmania University, Hyderabad. He started his academic carrier as a lecturer in purnaprajna Vidyapeeth sanskrit college and later in 2000, he joined and served as a faculty in Tirupati Rashtriya Sanskrit Vidyapeeth a deemed university.

He has also served in capacities as Acting Vicechancellor for one year, Registrar I/c, Director of Sanskrit Education of the state, and nodal officer in Karnataka Sanskrit University, Bengaluru.

He is member of various committees and national & international academic bodies such as Academic Council of RSVP Tirupati, Board of Management in Chinmaya University, Board of Studies in many universities. He is also appointed as Hon. Chairman of Managing committee of Mumbadevi Adarsh Mahavidyalaya mumbai. He worked as a member of the committee for vision document for the development of Sanskrit constituted by MHRD Govt of India. He is a part of the NAAC guidelines preparation committee for sanskrit universities. He was also member of Grant in aid committee, MHRD, Govt of India. He participated in faculty selection in EFLU hyd as the nominee of President of India.

He has been serving as a member in the selection committees for various awards in central Sahitya academy. He has been associated with many national and international research journals as editorial or advisory board.

He has earned the respect of being invited as visiting faculty in many national level institutions. Recently he was sent to an international conference organised by Indian embassy in Paris by the Ministry of external affairs , Govt of India.

He is known for organisation of summer schools, workshops, international and National conferences and seminars in many places. He has delivered around 50 key note addresses and Spl lectures in the national events. He presented around 30 papers on different topics in the seminars.

He has extensively worked in the field of Sanskrit Computational Linguistics. His current interests are Sanskrit Pedagogy, E-repository for Sanskrit, Research Methodology of Shatsras and Philosophy of Language. He has been engaged in dialogues between traditional systems of knowledge and modern thinking. He has more than 30 publications to his credit in National and International journals apart from a good number of books authored and edited.

He has been awarded the Maharshi Badarayan Vyas Samman - an award given by the President of India in 2008 and Swami Chinmayananda Research Gold medal in 2013. He has received many awards and titles for his work in the field of Sanskrit & Indian Knowledge Systems. Recently he is conferred Hon. D.Litt by the Governor of Maharashtra in the convocation of Kavikulaguru Kalidas Sanskrit University, Ramtek.
---
Former Vice Chancellors
Following List showing the duration of Services performed by the Vice-Chancellor since the inception of the University.
Name
from
to
Rashtriya Sanskrit Sansthan (Deemed University) [from 7th May, 2002]
1.
Prof. V.Kutumba Shastry
12th May 2003
11th May 2008
2.
Dr. Anita Bhatnagar Jain, IAS (Addl.Charge)
23rd May 2008
13th August 2008
3.
Prof. Radhavallabh Tripathi
14th August 2008
13th August 2013
4.
Prof. A.P. Sachchidanand, Incharge
14th August 2013
23th February 2014
5.
Dr. N.R. Kanan, Incharge
24th February 2014
06th July 2014
6.
Sh. R.P. Sisodia, IAS, Incharge
07th July 2014
12th October 2014
7.
Sh. Shashi Prasad Goyal, IAS, Incharge
13th October 2014
13th November 2014
8.
Dr. Sukhbir Singh Sandhu, IAS, Incharge
14th November 2014
28th April 2015
9.
Prof.P.N.Shastry, Incharge
29th April 2015
14th June 2015
Central Sanskrit University (from 30th April, 2020)
10.
Prof. P.N.Shastry
15th June 2015
14th June 2021
11.
Prof. K. B. Subbarayudu, Incharge
14th August 2021
11th January 2022
12.
Prof. Shrinivasa Varakhedi
12th January 2022
-
---